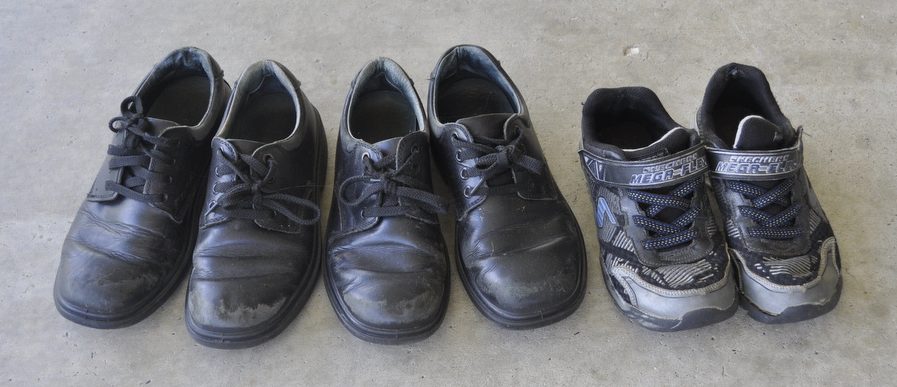 14 Jan

4 Important School Shoe features to help prevent overuse and sports Injuries
Back to School
As January progresses, Christmas cheer is well gone and the buzz that exists at the start of the New Year is fading.  A growing smile maybe arising on your face however, as the thought of sending your kids back to school and, thereby gaining some of your life back is going to be soon upon us!
We are not quite there as yet but now is a good time to start thinking about what you are going to be placing under your child's feet for the next school year.
School shoes are the most important shoe your child will own. In my opinion, if they are going to be in them all day, every day then it is worth spending the money and putting them in something that is going to help protect their feet.  Even more important if they are highly active not only running around at school but spending hours every day before and after school participating in organised sports.  They are already placing their bodies under a lot of stress and we certainly do not want to add to the stress on their bodies with bad footwear.  In fact, choosing their school shoes wisely could potentially help their feet and lower limbs to rest and recover during their long school days.
If your child is lucky enough to be able to wear a sports shoe/runner/jogger to school then this can make it easier to protect their feet because a good quality version of these shoes tends to offer the best cushioning and support available.  Choosing a sports shoe over a casual shoe in most cases is going to be also the best option.  Unfortunately, many casual shoes that children prefer to wear e.g. Converse Allstars, Vans and other similar are flat, offer very little cushioning and are too flexible.
Important School Shoe Features
If it is a more traditional shoe they have to wear then this can be a little more difficult although the technology and thought placed into these shoes has improved over the years.
Here are four important school shoe features you should look for when choosing a school shoe for your child to help prevent overuse injuries:
1. Cushioned Midsole
Steer away from school shoes that have purely a rubber midsole. Choose one that preferably has a foam based midsole.
2. 10mm Heel Pitch
This elevates the heels and can help de-load the plantar fascia, Achilles tendons and calf muscles.
3. Only breaking where the ball of your foot is, should be stiff to bend and twist
This supports the many bones and joints especially through the middle of the foot. If your child's feet are very flexible or hypermobile then this will give added protection from too much movement.  Too much movement through the feet can potentially lead to an overuse injury.
4. Adequate length and width
As to allow adequate room for the toes and other soft tissue structures to sit as normally as possible. Usually rule of thumb…. is the rule of thumb width where this should be the distance between your child's longest toe and the end of the shoe while they are standing.
Examples of some of the brands that I will commonly recommend include Clarks, Ascent and Skobi.  They all come in a good range of sizes, styles and suitable school shoe colours as well as having the 4 features I have mentioned.
Good luck with your back to school shopping and if you have any comments or questions please contact me via email at aleks@sportsmedpodiatry.com.au or via social media.
Image from http://beafunmum.com
---
To book with Aleks for personalised advice & treatment
BILINGA (Southern Cross University Health Clinic) | Call (07) 5589 3252 |  Wednesday 8:30 am until 12 noon
BURLEIGH HEADS (Burleigh Physiotherapy) | (07) 5535 5218 |Tuesday 8 am until 2 pm; Thursday 1 pm until 6 pm;  Friday 2pm until 5pm
BROADBEACH (Raw Therapies) | (07) 5592 1341 | Tuesday 3 pm until 6:30 pm
ROBINA (Sports & Spinal) | (07) 5689 4138 | Monday 2 pm until 6 pm; Wednesday 2 pm until 6 pm
---
Aleks Baruksopulo is a Podiatrist on the Gold Coast with a special interest in Sports & Running injuries of the feet and lower limbs, he has over 14 years of experience working in Physiotherapy & Sports Medicine Clinics and has performed over 22,500 patient consultations within this setting.
His business is called SportsMed Podiatry which consults out of Physiotherapy practices across the Gold Coast including at Broadbeach, Burleigh Heads, Robina and the SCU health clinic. More information about Aleks.
Manifesto – Aleks's Why?
---