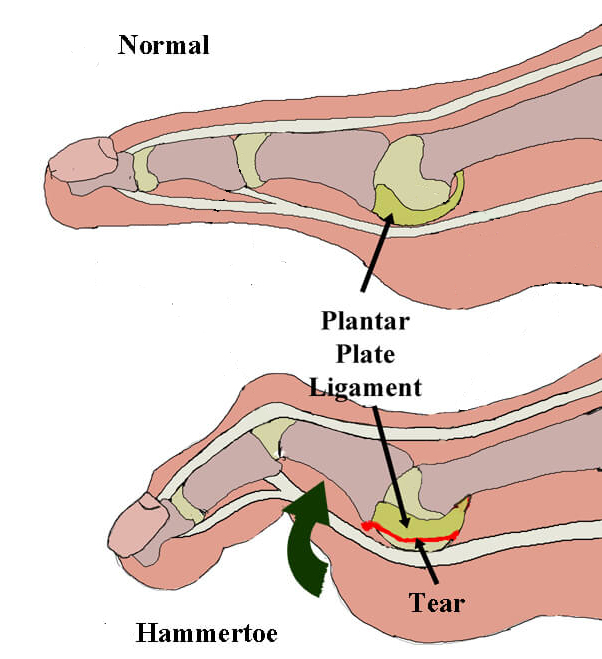 26 Sep

Commonly injured structures of the foot from running #4 Plantar Plate.

Plantar plates are fibrocartilaginous structures made up type 1 collagen, which makes them a very strong construct for daily wear and tear of ligaments.1 Its main role is to stabilise the metatarsal phalangeal joints during bending of the toes during the propulsion phase of gait and to help protect the joints from the high ground reaction forces. The later especially so during barefoot running and forefoot striking. Proximally, it is an extension of the plantar fascia with its distal attachment to the base of the proximal phalanx, thus providing static stability of the toes.2

During movement this structure is subject to significant tension (from the plantar fascia) and compression (from ground reaction forces) which may cause an increased risk of plantar plate injury.3 Damage to this structure can be in the form of strain and subsequent tear which can lead to instability of the joint and pain in the associated joint.1 It can often be a hard injury to treat as a runner can present with a number of functional and structural problems in the front of the foot which may pre-dispose them. One such structural problem, potential leading to damage of the 2nd metatarsal-phalangeal joint plantar plate, is an excessively long second metatarsal bone. As a result of this bone being excessively long, particularly in relation to the 1st metatarsal, it has more load placed upon during the propulsion phase of gait during each and every running step.

Another big contributing factor is non-supportive footwear in particular women's high heels. A high heeled shoe drives body weight into the metatarsal heads and places the metatarsal-phalangeal joint in a more vulnerable dorsiflexed position further exposing the plantar plate and other joint structures. The contribution from high heels may be a reason why there is a higher incidence of plantar plate tears in females. The ratio of plantar plate tears in females vs males to 10:1. 1

Part of Podiatric treatment to help with repair of a tear may involve what is called ribbon taping to help anchor the associated digit down and deload the plantar plate. A specialised pad called a metatarsal bar may also be used on either the patient's insoles of their shoes or built onto an orthotic device. A rocker bottom shoe can also be a useful adjunct in this case as well.

1 BARAVARIAN, B.; REDKAR, A. Expert insights to treating plantar plate tears. Podiatry Today, v. 29, n. 3, p. 60 – 63, 2016.

2 DELAND, J. T. et al. Anatomy of the plantar plate and its attachments in the lesser metatarsal phalangeal joint. Foot Ankle Int, v. 16, n. 8, p. 480-6, Aug 1995. ISSN 1071-1007. Disponível em: < https://www.ncbi.nlm.nih.gov/pubmed/8520660 >.

3 KIRBY, K. Understanding The Biomechanics of Plantar Plate Injuries. Podiatry Today, v. 30, n. 4, p. 30 – 39, 2017.
---
To book with Aleks for personalised advice & treatment
BILINGA (Southern Cross University Health Clinic) | Call (07) 5589 3252 | Wednesday 8:30 am until 12 noon
BURLEIGH HEADS (Burleigh Physiotherapy) | (07) 5535 5218 |Tuesday 8 am until 2 pm; Thursday 1 pm until 6 pm; Friday 2pm until 5pm
BROADBEACH (Raw Therapies) | (07) 5592 1341 | Tuesday 3 pm until 6:30 pm
ROBINA (Sports & Spinal) | (07) 5689 4138 | Monday 2 pm until 6 pm; Wednesday 2 pm until 6 pm
---
Aleks Baruksopulo is a Podiatrist on the Gold Coast with a special interest in Sports & Running injuries of the feet and lower limbs, he has over 14+ years of experience working in Physiotherapy & Sports Medicine Clinics and has performed over 25,000 patient consultations within this setting.
His business is called SportsMed Podiatry which consults out of Physiotherapy practices across the Gold Coast including at Broadbeach, Burleigh Heads, Robina and the SCU health clinic.
More information about Aleks.
Manifesto – Aleks's Why?