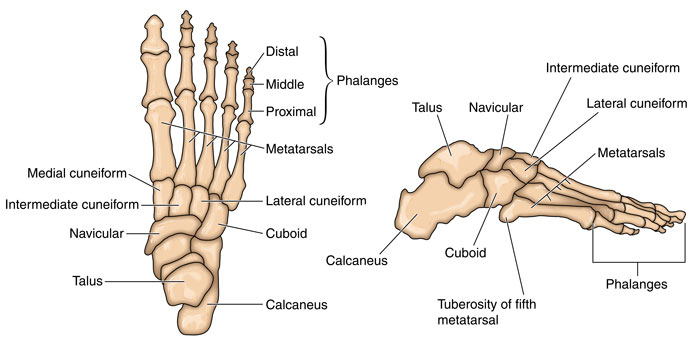 03 Apr

Commonly injured structures of the foot from running #6 Bones.

Without the bones that make up our skeleton our bodies would collapse in a mound of beautiful soft tissue mess. Our bones are the anchors for the forces applied by muscles and tendons to allow our body to both maintain an upright posture and to move. Bones also play an important role in protecting our vital organs. In total, we have 206 bones in our body with just over a quarter of which (52 bones) make up our feet.

Bones are a hard form of connective tissue that constitutes the majority of our skeleton. They consist of both an organic component (the cells and matrix) and an inorganic, or mineral, component. The matrix contains a framework of collagenous fibres, impregnated with the mineral component, mainly calcium phosphate (85%) and calcium carbonate (10%). This is what makes for the rigidity of bone.1

Bone can also be considered as a metabolically active organ that goes through continual re-modelling throughout our lifespan. Cells, called osteoclasts, remove old mineralised bone while other cells, called osteoblasts, build new bone. This remodelling serves to adjust bone architecture to meet our changing mechanical needs and helps to repair micro damage in the bone matrix, thus preventing the accumulation of old bone.2

In terms of changing mechanical needs, we might be talking about an increase in the amount of running load you may be doing in preparation for an upcoming longer distance event. Bone can be weakened, and a bone stress injury may occur if you do not allow yourself adequate time to gradually increase the mechanical load when preparing for such an event. Injuries in the form of microscopic cracks or even a stress fracture can occur in bone, especially when there is a too sudden and great a change in intensity and distance while running. Changes in terms of footwear and training surface may also be associated bone injury risk factors, particularly as a result of not providing enough dampening of impact forces.3

Damage to bones from running can also occur in those runners who are more susceptible to stress fractures due to low bone density. For example, there is a syndrome called the female athlete triad. This condition involves low energy availability (due to low calorie intake), amenorrhoea (absence of a menstrual period in women of reproductive age) and osteoporosis (a condition of the bones making them weak and fragile). For female athletes suffering from one of these factors in the triad bone the stress fracture risk can be 2.4 to 4.9 times higher. There is also increased risk of a stress fracture later in life.4

The most common site for a stress fracture in the lower limb caused by running is the tibia. The condition medial tibial stress syndrome (MTSS), also known as shin splints or tibial periostitis, can be difficult to distinguish from a stress fracture. However, MTSS typically occurs over the medial posterior edge of the tibia and is present during exertional activity (e.g. running) as opposed to a stress fracture, which is usually able to be felt during day-to-day activities.3

Another running-related common stress injury location is the navicular bone of the foot.18 It is important to diagnose a stress injury in this location as parts of this bone have poor blood supply and are therefore at risk of non-union. If this occurs, the whole bone can start to deteriorate or break down and lead to what is called avascular necrosis (bone death).
---
References:
1. DORLAND, W. A. N. Dorland's Illustrated Medical Dictionary: Saunders 2003. ISBN 0-7216-0146-4
2. HADJIDAKIS, D. J.; ANDROULAKIS, I. I. Bone remodeling. Ann N Y Acad Sci,v. 1092, p. 385–96, Dec 2006. ISSN 0077-8923.
3. KIEL J, K. K. Stress Reaction and Fractures.In: StatPearls [Internet]. : Treasure Island (FL): StatPearls Publishing; 2018 Jan-. [Updated 2018 Oct 27].
4. NOSE-OGURA, S.; HARADA, M.; HIRAIKE, O.; OSUGA, Y.; FUJII, T. Management of the female athlete triad. J Obstet Gynaecol Res, Apr 2018. ISSN 1447-0756.
---
To book with Aleks for personalised advice & treatment
BILINGA (Southern Cross University Health Clinic) | Call (07) 5589 3252 |  Wednesday 8:30 am until 12 noon
BURLEIGH HEADS (Burleigh Physiotherapy) | (07) 5535 5218 |Tuesday 8 am until 2 pm; Thursday 1 pm until 6 pm;
BROADBEACH (Raw Therapies) | (07) 5592 1341 | Tuesday 2 pm until 6 pm
ROBINA (Sports & Spinal) | (07) 5689 4138 | Monday 9 am until 12 noon; Wednesday 2 pm until 6 pm
---
Aleks Baruksopulo is a Podiatrist on the Gold Coast with a special interest in Sports & Running injuries of the feet and lower limbs, he has over 14+ years of experience working in Physiotherapy & Sports Medicine Clinics and has performed over 25,000 patient consultations within this setting.
His business is called SportsMed Podiatry which consults out of Physiotherapy practices across the Gold Coast including at Broadbeach, Burleigh Heads, Robina and the SCU health clinic.
More information about Aleks.
Manifesto – Aleks's Why?