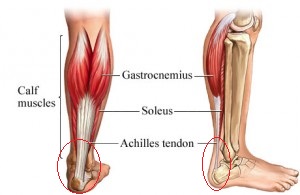 23 Oct

Commonly injured structures of the foot from running #5 Tendons.

Tendons are extensions of muscles that attach muscle to bone. They are stiffer than muscles, have greater tensile strength and can withstand very large loads with minimal deformations.1 They have a high percentage of collagen (65 to 80%) which allows them to have an elastic type property capable of resisting high tensile forces, dampening shock and storing energy when stretched. These collagen fibres are made up of a bunch of collagen fibrils which make up the basic unit of the tendon.2 These are aligned parallel to each other and show a wavy pattern known as crimps. The ability of the tendon to stretch, store energy, release the energy as well as transmit the forces of muscles is closely related to the tendon collagen fibre's crimp.3 At rest they are crimped but during strain they become taut, behaving like an elastic material. If they elongate too much they can tear or rupture completely.

There are different shapes of tendons in the body depending on their role. For example muscles used to perform delicate and precise movements, such as the flexors of the fingers, possess long and thin tendons, while those that perform actions of power and endurance, such as the quadriceps and calf muscles have shorter and more robust tendons. 3

Using the example of the Achilles tendon the strongest, thickest tendon in the body it has to resist up to 12.5x our body weight worth of forces when we run.4 Because of these high forces you can also start to appreciate one of the reasons this structure is one of the most commonly injured during running. In a systematic review done in 2012 a condition affecting the Achilles tendon called Achilles tendinopathy ranked 2nd behind Medial Tibial Stress syndrome as the most common running related musculoskeletal injury with an incidence of between 9.1% to 10.9%.5

Achilles tendinopathy, commonly referred to as Achilles tendonitis, is characterised by a combination of pain, swelling and impaired performance.6 The term tendinopathy as opposed to tendonitis is the preferred description as there are no inflammatory markers found with the condition.6 It is thought to be actual degenerative changes in the tendon due to the failure in the healing process which includes three different and continuous stages – reactive tendinopathy, tendon disrepair and degenerative tendinopathy.6

Under microscope the collagen fibres of the affected tendon appear disorganised compared to organised in a healthy tendon as well as there is an increase in the number of tenocytes, which are responsible for the formation and turnover the extracellular matrix which includes collagen. Neovascularisation is also seen which has been hypothesised to be the one of the sources of pain in chronic mid-portion Achilles tendinopathy.6

There are two main categories of Achilles tendinopathy defined by the anatomical location and broadly include insertional and non-insertional.7 Insertional meaning you will feel pain on the back of the heel bone and non-insertional meaning you will feel pain on the actual tendon, usually the mid-portion.

Commonly identified causes include both intrinsic and extrinsic factors. The intrinsic factors include biomechanical abnormalities of the lower limbs such as leg length discrepancy, over-pronation, varus deformity of the forefoot, pes cavus, and limited range of movement of the subtalar joint, and systemic conditions such as increasing age, inflammatory arthropathies, corticosteroid use, diabetes, hypertension, obesity, gout to name a few.6

Commonly identified extrinsic factors include excessive mechanical overload and training errors such as increased interval training, abrupt change in scheduling, excessive hill running, training on hard or sloping surfaces, increased mileage, increased repetitive loading, poor shock absorption, and wedging from uneven wear.6 Insufficient heel height of running shoes has been suggested as a contributing factor as well.8

1 GLENN, N. O.; HENRY, C. A. How muscle contraction strengthens tendons. Elife, v. 8, Jan 2019. ISSN 2050-084X. Disponível em: < https://www.ncbi.nlm.nih.gov/pubmed/30676317 >.

2. KANNUS, P. Structure of the tendon connective tissue. Scand J Med Sci Sports, v. 10, n. 6, p. 312-20, Dec 2000. ISSN 0905-7188. Disponível em: < https://www.ncbi.nlm.nih.gov/pubmed/11085557 >.

3. BORDONI, B.; VARACALLO, M. Anatomy, Tendons: StatPearls Publishing LLC. 2018.

4. DORAL, M. N. et al. Functional anatomy of the Achilles tendon. Knee Surg Sports Traumatol Arthrosc, v. 18, n. 5, p. 638-43, May 2010. ISSN 1433-7347. Disponível em: < https://www.ncbi.nlm.nih.gov/pubmed/20182867 >.

5. LOPES, A. D. et al. What are the main running-related musculoskeletal injuries? A Systematic Review. Sports Med, v. 42, n. 10, p. 891-905, Oct 2012. ISSN 1179-2035. Disponível em <https://www.ncbi.nlm.nih.gov/pubmed/22827721 >.

6. LI, H. Y.; HUA, Y. H. Achilles Tendinopathy: Current Concepts about the Basic Science and Clinical Treatments. Biomed Res Int, v. 2016, p. 6492597, 2016. ISSN 2314-6141. Disponível em: < https://www.ncbi.nlm.nih.gov/pubmed/27885357 >.

7. ROCHE, A. J.; CALDER, J. D. Achilles tendinopathy: A review of the current concepts of treatment. Bone Joint J, v. 95-B, n. 10, p. 1299-307, Oct 2013. ISSN 2049-4408. Disponível em: < https://www.ncbi.nlm.nih.gov/pubmed/24078523 >.

8. IRWIN, T. A. Current concepts review: insertional achilles tendinopathy. Foot Ankle Int, v. 31, n. 10, p. 933-9, Oct 2010. ISSN 1071-1007. Disponível em: < https://www.ncbi.nlm.nih.gov/pubmed/20964977 >.
---
To book with Aleks for personalised advice & treatment
BILINGA (Southern Cross University Health Clinic) | Call (07) 5589 3252 | Wednesday 8:30 am until 12 noon
BURLEIGH HEADS (Burleigh Physiotherapy) | (07) 5535 5218 |Tuesday 8 am until 2 pm; Thursday 1 pm until 6 pm; Friday 2pm until 5pm
BROADBEACH (Raw Therapies) | (07) 5592 1341 | Tuesday 3 pm until 6:30 pm
ROBINA (Sports & Spinal) | (07) 5689 4138 | Monday 2 pm until 6 pm; Wednesday 2 pm until 6 pm
---
Aleks Baruksopulo is a Podiatrist on the Gold Coast with a special interest in Sports & Running injuries of the feet and lower limbs, he has over 14+ years of experience working in Physiotherapy & Sports Medicine Clinics and has performed over 25,000 patient consultations within this setting.
His business is called SportsMed Podiatry which consults out of Physiotherapy practices across the Gold Coast including at Broadbeach, Burleigh Heads, Robina and the SCU health clinic.
More information about Aleks.
Manifesto – Aleks's Why?