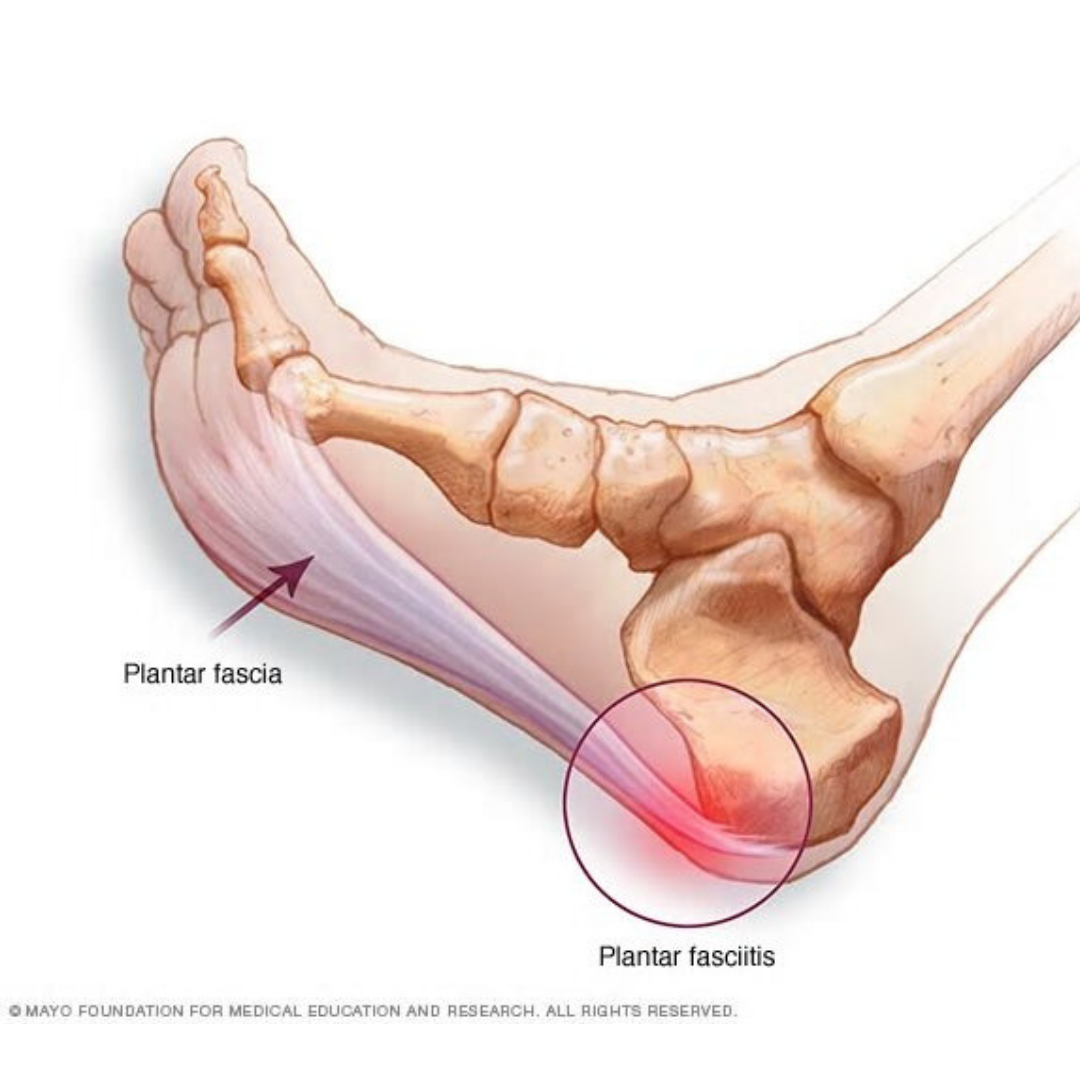 05 Feb

Plantar fasciitis and plantar heel pain in runners

One of the most common conditions we see as Podiatrists is plantar heel pain which is a common disabling symptom with an incidence and prevalence that is uncertain.1; 2 It has been estimated however that 7% of the population over 65 years in the US report tenderness in the region of the heel.1
Plantar Fasciitis Symptoms, Diagnosis and Causes
One of the most common diagnosed plantar heel pain conditions is plantar fasciitis.  Past description of this condition was a chronic inflammation of the plantar fascia but it has been shown it is not an inflammation but more a degenerative pathology, similar to a tendinopathy, at the insertion of plantar fascia to the medial tubercle of the calcaneal (heel) bone. 3 However, recent imaging techniques are showing the condition affects more than just the plantar fascia (e.g. heel bone and surrounding tissue) and the more generalised term, plantar heel pain, is indicated as being more appropriate.1
A defining and most common symptom of plantar fasciitis is pain first thing in the morning or after getting up from rest.  This can then ease but return after being on feet for extended periods of walking, standing or after an intense exercise session.
In relation to the diagnosis of plantar fasciitis in recreational runners the incidence has been reported at about 5%, after medial tibial stress syndrome (10%), patella-femoral pain (10%), medial meniscus injury (9%), and Achilles tendinopathy (7%).3  This high incidence is not surprising given the upwards of three times body weight going through each foot on each stride and the nature of the foot being dynamic for adaption and shock absorption.  The plantar fascia being one of the structures potentially affected as it plays an important role in helping maintain the dynamic arch structure of the foot.
The causes are not fully understood but the suggested risk factors for the general population include being overweight, older age, prolonged standing, and having reduced range of motion in the ankle and 1st metatarsal-phalangeal joint. 1 A pronated foot posture has been linked with the condition, but it has not been consistently found to be a risk factor. 1
Petralglia et al. (2017) identified risk factors for running and has broken it into intrinsic (anatomical, functional and degenerative) and extrinsic (overuse, In-correct training and inadequate footwear) risk factors.  Specific levels of evidence do not seem to have been given for each of the specific points listed below but nonetheless they are in line with what are commonly identified by health practitioners including Podiatrists and should be at least considered and therefore potentially addressed when looking at the whole picture.
Intrinsic Causes of Plantar Fasciitis
Anatomical
Pes Planus (low or flat arches),
Pes Cavus (very high arches),
Excessive lateral tibial torsion,
Excessive femoral anteversion,
Functional
Gastrocnemius & Soleus muscle (calf muscle) tightness,
Achilles tendon tightness, calf and
instrinsic foot muscle weakness. 3
Degenerative 
atrophy of the heel fat pad,
plantar fascia stiffness. 3
Extrinsic Causes of Plantar Fasciitis
Overuse 
Incorrect training (training error)
A too fast increase in the distance, intensity, duration or frequency of activities that involve repetitive loading of the feet. 3
Inadequate footwear
Poorly cushioned surface,
inappropriate replacement of worn out shoes. 3
Learn about the Treatment Options for Plantar Fasciitis and Heel Pain in another blog here.
References
1. LANDORF, K. B. Plantar heel pain and plantar fasciitis. BMJ Clin Evid, v. 2015, Nov 2015. ISSN 1752-8526. Disponível em: < https://www.ncbi.nlm.nih.gov/pubmed/26609884 >.
2. LANDORF, K. B.; MENZ, H. B. Plantar heel pain and fasciitis. BMJ Clin Evid, v. 2008, Feb 2008. ISSN 1752-8526. Disponível em: < https://www.ncbi.nlm.nih.gov/pubmed/19450330 >.
3. PETRAGLIA, F.; RAMAZZINA, I.; COSTANTINO, C. Plantar fasciitis in athletes: diagnostic and treatment strategies. A systematic review. Muscles Ligaments Tendons J, v. 7, n. 1, p. 107-118, 2017 Jan-Mar 2017. ISSN 2240-4554. Disponível em: < https://www.ncbi.nlm.nih.gov/pubmed/28717618 >.
---
To book with Aleks for personalised advice & treatment
BILINGA (Southern Cross University Health Clinic) | Call (07) 5589 3252 |  Wednesday 8:30 am until 12 noon
BURLEIGH HEADS (Burleigh Physiotherapy) | (07) 5535 5218 |Tuesday 8 am until 2 pm; Thursday 1 pm until 6 pm;  Friday 2pm until 5pm
BROADBEACH (Raw Therapies) | (07) 5592 1341 | Tuesday 3 pm until 6:30 pm
ROBINA (Sports & Spinal) | (07) 5689 4138 | Monday 2 pm until 6 pm; Wednesday 2 pm until 6 pm
---
Aleks Baruksopulo is a Podiatrist on the Gold Coast with a special interest in Sports & Running injuries of the feet and lower limbs, he has over 14 years of experience working in Physiotherapy & Sports Medicine Clinics and has performed over 22,500 patient consultations within this setting.
His business is called SportsMed Podiatry which consults out of Physiotherapy practices across the Gold Coast including at Broadbeach, Burleigh Heads, Robina and the SCU health clinic. More information about Aleks.
Manifesto – Aleks's Why?
---